Sultanate of Oman Royal Court Affairs visits JICE
Middle East
International Participant Training
On August 29th, 2013, Sultanate of Oman Royal Court Affairs (RCA), lead by Deputy Head of delegation, Mr. Zuhair Al-Khusaibi visited JICE.
Objective of the delegation was to pertain the information of personnel system, especially for ideas regarding boosting motivation at work and to gather the information on the practical cases of teamwork.
Ms. Sachiko Yamano, the President of JICE started the presentation by extending warm welcome and the gratitude for the visit, followed by summary of different human resource development programs conducted in the Middle East by JICE. She wished to take this opportunity to deepen the relationship between RCA and JICE, and to build a respectable partnership between the two parties.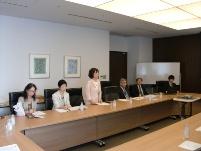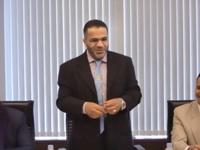 In return, Mr. Al-Khusaibi, Deputy Head of the delegation explained RCA created a committee focused on strengthening the personnel system 9 years ago, and they are now in cooperation with 7 countries on this matter. During the visit, Mr. Al-Khusaibi addressed the possibility of partnership with Japan. They are planning to compare the case studies of each country to determine which model works the best.
Ms. Machiko Naito, Associate Director of the International Training Department was the third presenter, describing the business summary and the mission of JICE in the Middle East, followed by Mr. Nobuaki Hirakawa, Managing Director of the General Affairs Department who defined the Japanese personnel system by using JICE's system as a model. Mr. Takeshi Shimizu of the International Training Department also presented the human resource development program of JICE and how it is malleable to suit the needs and backgrounds of many countries, while incorporating examples of the Middle East. Discussion at the end of the meeting clarified specific topics and needs of RCA and the both groups openly exchanged opinions, questions, and information.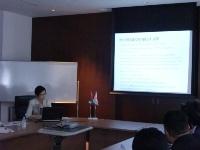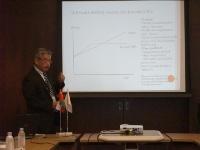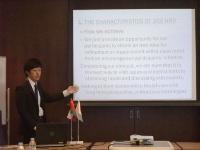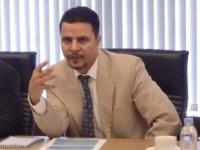 Taking the chance, JICE will pursue the development of cooperative relationship with RCA by providing training programs that will meet the needs of Sultanate of Oman, and will tackle challenges in human resource development that both countries are facing together.