Who we are
Our Social Contribution
Towards a New Future of International Cooperation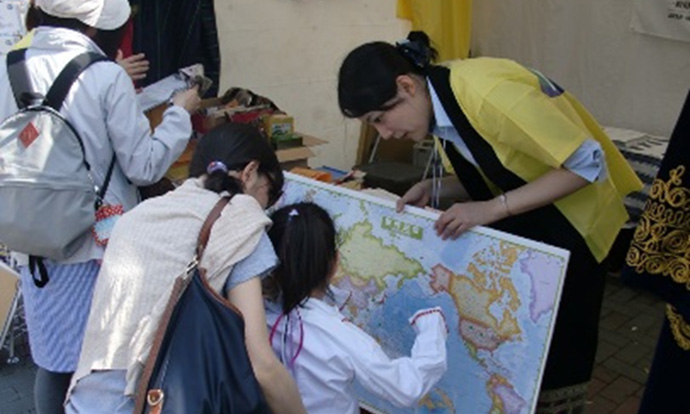 Supporting Development/ Global Education
We support development and global education conducted at junior and senior high schools and universities by dispatching lecturers with international experiences. With an aim to prepare globally minded citizens, we will step up efforts to provide educational support programs that will enable students to increase their understanding of diverse cultures and the importance of international cooperation through practical and interactive methods.
The educational institutions where we have dispatched lecturers include: Hokkaido University of Education; Tokyo City University; Taito Ward Komagata Junior High School, Tama Municipal Kaidori Elementary School; and Itabashi Ward Narimasugaoka Elementary School.
Since 2004, we have continuously been dispatching our staff members and coordinators as lectures for "Cross-Cultural Communication Course" conducted by Hokkaido University of Education. Since 2017, we have been partnering with Tokyo City University to create and conduct a new international education course to prepare globally minded youth in the 21st century. This course has been uniquely designed to provide an opportunity for the students to understand the globalizing international society and to prepare for the achievement of the Sustainable Development Goals through participatory workshops using Project Cycle Management method.
Supporting Olympic and Paralympic Education
Ahead of Tokyo 2020 Olympic and Paralympic Games, we have been cooperating with Tokyo Metropolitan Board of Education to support its efforts to promote Olympic and Paralympic education by providing the following opportunities and programs.
1. Delivery Lectures by International Students
We arrange and deliver lecturers to promote international understanding at school conducted by the international students studying at higher educational institutions in Japan under the ODA program. The lectures cover various issues such as culture, sports and their cross-cultural experience in Japan. If the lecturer speaks in English, our staff member can serve as an interpreter into Japanese.
2. Delivery Lectures by JICE Staff members
We organize various training and exchange programs for a broad range of international participants with varying ages and professions such as high school and university students, young professionals, government administrators and engineers, politicians, and educators. In the process, our staff members have various cross-cultural experiences and embrace a deep understanding of diversities in culture, religion and custom. They will share with the students their experience and insight regarding international understanding and tolerance.
3. School-to-School Exchange Programs
As part of the youth exchange program for ASEAN countries*, we invite overseas high school students in a group of 25 to 50 people from the same school in principle. By taking advantage of this valuable opportunity, we encourage Japanese high schools to accept them for school-to-school exchange programs such as mutual school introduction, exchange session, introduction of Japanese culture, experiencing of class and other extra-curricular activities, and school tour.
*Indonesia, Cambodia, Singapore, Thailand, The Philippines, Brunei, Viet Nam, Malaysia Myanmar and Laos
Other Contributions
We provide complementary multilingual transaction and interpreter dispatch services to the local government offices and disaster response headquarters in order to support foreign residents affected by disasters.
Participation in Various International Events
We participate in various international events and festivals held across Japan to exhibit and introduce our activities. We also partner with various organizations promoting intentional understanding through sponsoring events such as a speech contest for high school students.
Acceptance of Office Visits
At the request from schools, we accept office visit of students as part of their career education.