What we do
Coordinator / Interpreter Dispatch Service
Taking advantage of 40 years of experience, we support communication in languages around the world.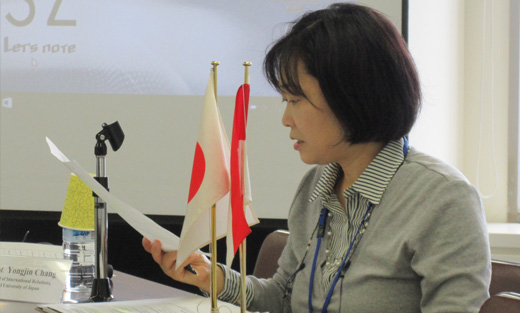 Service Contents
Utilizing 40 years of experience at the field of international cooperation, we support communication at various scenes such as conferences and seminars at public offices and companies, courtesy visits, inspection and technical training.
JICE interpreter service, not merely interpreting words but bridging smooth communication based on cultural and social background differences.
We will provide you with the perfect service by interpreter and usage fee that you desire.
Domestic Interpretation (consecutive interpretation / simultaneous interpretation), International Accompanying Interpretation (consecutive interpretation / simultaneous interpretation)
Conference, Seminar, Video conference, Symposium, VIP courtesy visit
Training lecture, Site visit, Dinner party
Accompanying, Airport transfer
We will add value to the Technical Training Course
JICE interpreters will also utilize the knowledge and expertise cultivated in the training management work to carry out interpreting work at the training site as well as coordination between stakeholders and living advice for trainees. After consulting with customers, we will back up so that we can maximize our training effect.
We Support Languages Around the World
JICE has a specialist in 31 languages.
Southeast and East Asia
Cambodian
Chinese
Indonesian
Korean
Lao
Malay
Mongolian
Myanmar
Thai
Vietnamese
Middle East and South Asia
Arabic
Bengali
Dali
Nepali
Persian
Sinhari
Turkish
Urdu
Africa, Latin America and Europe
Bulgarian
Czech
English
French
German
Italian
Polish
Portuguese
Romanian
Russian
Serbo Croatian
Slovak
Spanish
Flow of Interpreting Service
Contact Us
We will ask you for the following information
Language, Type of interpreter (consecutive interpretation / simultaneous interpretation), Business content (conference interpretation, training interpretation), Schedule, Time table, Location, Business field, Visiting person (Person to be interpreter)
Quotation
In accordance with the work content, we propose interpreting type, number of interpreters and will submit a quotation. Also, we will start selecting a suitable interpreter.
Application
If you are ready to submit a request formally, fill out the required application form and submit it to us.
Decision of Interpreter
We will decide a suitable interpreter and inform you of name etc.
Preparation
Please prepare in advance the spoken manuscript etc. We will read it by the day after obtaining it. No matter how experienced interpreter you are, you need to prepare in advance to provide high quality service on the day. We appreciate your cooperation in providing materials.
Evaluation
We will ask about the interpreter's performance. We will also send you a questionnaire so please give us your feedback. Based on the opinion received, we will strive to further improve the service.
Interpretation Field
Administration
Agriculture
Disabled care
Disaster prevention
Economy
Education
Energy
Environment
Finance
IT technology
Investment
Legal development
Livestock breeding
Machinery
Mass communication
Medical care
Patents / Intellectual property rights
Peacebuilding
Sewerage
etc.
Please consult about other fields as well.
Interpretation Record
Technical training interpreter
Interpretation of international exchange project
President and ministerial level talks interpreter
Conference interpreter
Domestic inspection of key people, interpreting at courtesy
University seminar interpreter
Symposium · Forum · Seminar interpreter
Interpretation accompanying research
Interview with accompanying interview interpreter
Moderator interpreter
* Interpretation of TICAD IV subcommittee, Hokkaido Toyako Summit (Reception, various event interpreters) etc.
Voices from Customers
Both sides have made an atmosphere that makes it easy to say.
Although the terms were special, I was satisfied that (because the interpreter knew about the field) well.
With regard to interpreting at the requested dinner, I got to do it wonderfully, such as wording, tone, and how to intervene, and it became a very gorgeous entertainment.
He explained the high level explanation for participants who are good at English, and interpreted very carefully, using illustrations to illustrate to poor participants until they can understand.
Not only the interpretation skills but also the personality was good, so I could leave the interpreter with confidence.
I am deeply appreciative of this training and I am very grateful for the smooth cooperation on management.
Contact us
Interpretation Service, International Training Department,
J

apan

I

nternational

C

ooperation C

e

nter (JICE)