JICE Internship program for Masdar Institute 2013
Middle East
Project Management Service
 JICE has implemented the Internship program for Emirati students of Masdar Institute of Science and Technology (MI) which is a graduate university focused on renewable energy, sustainability, smart community and green technology in Abu Dhabi, United Arab Emirate.

 JICE Internship program for MI has started since 2012, and it is sponsored by the Ministry of Economy, Trade and Industry of Japan (METI). This program provides with the Emirati students of MI, who aim to build mutually beneficial connections between MI and Japanese firms, to opportunity to study and acquire practical experience in the fields of renewable energy, smart communities and green technology as well as to develop even more friendly relationship between UAE and Japan.

 This year, the program was conducted from May 19, 2013 to July 19, 2013, and seven Emirati students of MI participated in this program. JICE has provided the foundation program to the interns before they joined the field internship at their accepting companies. It is consisted of the programs on introduction to life in Japan, Japanese language, Japanese business manners, and Japanese culture. This program enabled the interns to smoothly start their daily lives in Japan, and helped them develop comfortable environments where they could concentrate on their studies at their field internships.
 Also, JICE held a welcome party for interns and over fifty people participated, including H.E. Al Nowais, Ambassador of the UAE to Japan, METI, all the accepting Japanese companies and all related members of this internship program. In the party, seven interns introduced themselves in Japanese, stated their goals of the field internship and showed their enthusiasm of field internship.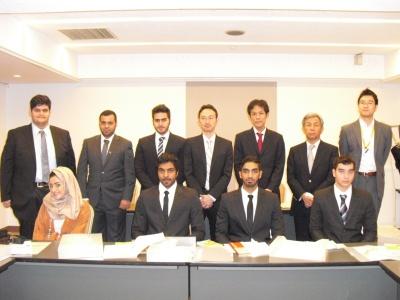 The period of this year's field internship was 38 days; 7 interns were dispatched to 5 accepting companies. Each company provided an original curriculum with different requirements and goals, and put great efforts into giving the best possible training during the short training period. The field internship aimed not only to give interns the opportunity to study and acquire practical experience in their research fields, but also to learn about Japanese technology in a multidisciplinary manner including working ethics (e.g.teamwork).
 In the end of the internship program, JICE held final presentation and closing ceremony.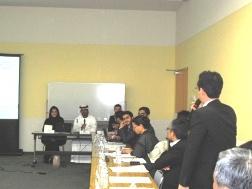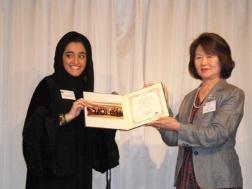 This program was able to accomplish its second term successfully thanks to the great support and cooperation given by METI, the accepting companies in Japan, MI's faculties and all other partners involved in Japan. There is no doubt that their dedication and efforts contributed to this program's success.

For future information:
Nami Tagawa (Ms)
Naoko Kobari (Ms)
Regional Division 2, Overseas Business Department
internship-masdar@jice.org
TEL: +81-3-6838-2722