JICE held a Welcome Reception for 8 Interns from Masdar Institute of Science and Technology, United Arab Emirates
Middle East
Project Management Service
JICE held a welcome reception for 8 interns from Masdar Institute of Science and Technology (MI), an independent, research-driven graduate-level university focused on advanced energy and sustainable technologies in Abu Dhabi, United Arab Emirates on May 23, 2014. At the welcome reception, H.E. Mr. Saeed Ali Yousef Al Nowais, Ambassador Extraordinary and Plenipotentiary of the UAE to Japan, Mr. Hideyuki Urata, Director for Petroleum Policy, Agency for Natural Resources and Energy, Ministry of Economy, Trade and Industry, and other distinguished guests from the concerned companies as well as relevant organizations welcomed the interns and hoped their great success in the internship program.

JICE has been conducting the internship program for MI since 2012 to provide practical and educational opportunities to Emirati students of MI in the fields of renewable energy, smart community, green technology and so on. For the last couple of years, 12 interns in total have participated in this program and 8 interns will participate in a field internship for 1 month from May 27 until June 27, 2014 at JGC, Chiyoda Corporation, Mitsubishi Heavy Industries Ltd., Mitsubishi Electric Corporation and Toshiba Corporation respectively this year.

Ahead of the field internship at each concerned company, JICE provided a foundation program to the interns and they have learned about Japanese language, Japanese culture as well as Japanese business manner and also had disaster prevention training. This foundation program was aimed at supporting the interns to accustom themselves to Japanese daily life smoothly and thus to concentrate on their field internship effectively. As one of the achievements of JICE foundation program, 8 interns introduced themselves in Japanese perfectly at the welcome reception.

JICE will continue its efforts to make this internship program successful for all the people involved with the cooperation with MI as well as METI and the concerned companies.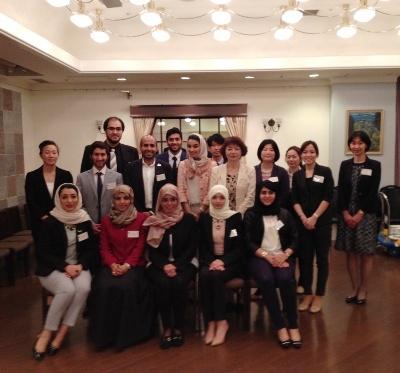 Naoko Kobari (Ms.), Nami Tagawa (Ms.)
Overseas Cooperation Division
International Training Department