Study Tour in Japan for High School Students from the United Arab Emirates (UAE)
Middle East
Project Management Service
International Youth Exchange
JICE implemented Study Tour in Japan for Emirati High School Students from August 17th to August 24th, 2014, aiming to encourage Emirati high school students to study in Japan.
This program, with the support of the Ministry of Economy, Trade and Industry (METI), has been consistently desired by H.E. Ms Midori Matsushima, Vice Minister of METI (then) since her visit to Abu Dhabi in 2013. Prior to implementation of the program, Abu Dhabi Education Council (ADEC) and JICE signed the agreement on this program at the end of May 2014.
The program, a first Study Tour for Emiratis High School Students, provided visits to public and private university, exchange program with Japanese high school students, cultural and historical studies, and nature experience, giving the opportunity to understand Japanese universities as well as attractive points in Japan. At the end of this program, JICE held reporting session and closing ceremony, and 46 participants including Mr. Khaled Omran Al Ameri, Minister Plenipotentiary of the Embassy of UAE in Japan, and all accepting organization and related members of this program.
This program, Study Tour for Emirati High School Students, was able to successfully accomplish with its first term thank to the great support and cooperation given by all the related members.
JICE will continue its efforts to make a better program in the future.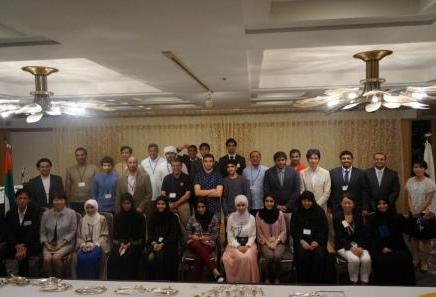 Mai Isomura(Ms)
Overseas Cooperation Division
International Training Department