"Discover the Spirit of Japan" for Delegation from the State of Qatar
Middle East
International Participant Training
The Supreme Educational Council (SEC) of Qatar has been sending promising high school students to USA or European countries, and this year SEC has decided to send a batch to Japan. JICE was entrusted by the Embassy of the State of Qatar to implement 10-day study programme in Japan for Qatari high school students.
The delegation arrived in Japan on 1 February, 2015, and had programmes in Tokyo, Aichi, Gifu, Kyoto, Osaka and Hyogo. During 3-day programme in Tokyo, the delegation learnt about Japan's cutting-edge technology through visiting the National Museum of Emerging Science and Innovation "MIRAIKAN", Tokyo Sky Tree Town Campus of Chiba Institute of Technology and others. They had experience of creating short animation films, and also learnt about emergency education conducted by local governments through visiting and having experience of emergency drill at Ikebukuro Life Safety Learning Centre.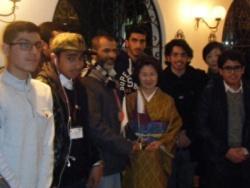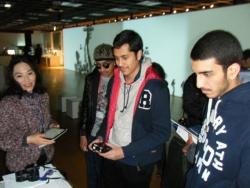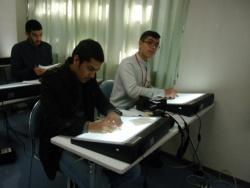 In Aichi, the delegation obtained information on Japan's automobile industry by visiting a Toyota plant, Toyota Motor Corporation and information on Japan's higher education in Nagoya University. The delegation reported that their most impressed programme in Japan was the school visit and exchange programme held in Gifu Prefectural Gujo High School, in which the delegation learnt about Japan's educational and school system and fostered friendships with Gujo students while having a cultural exchange, classroom and lunch exchange and others in the high school.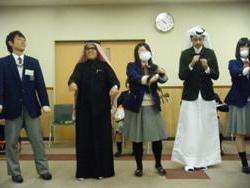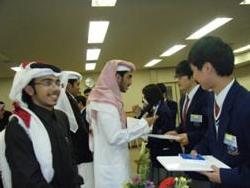 The delegation had experiences of Japan's traditional dyeing and Kimono wearing in the heritage city of Kyoto. While visiting Maya Peak of Mt. Rokko, the delegation had their first experience of walking in a snow-falling mountain pass. Also in Kobe, through visiting a confectionery plant, the delegation acquired information on a company's efforts on food safety.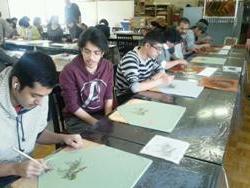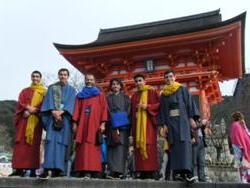 The delegation, consisted with 6 promising students (age: 14 to 17) and 1 supervisor, was the very first batch to Japan dispatched by the SEC, Qatar. The members attended the programme and tried to deepen understanding on Japan very positively and constructively. At the same time, for JICE, this programme was the very first programme with the State of Qatar, so we would like to make our best efforts to deepen relations with the State of Qatar.
Ms. SOHMA, Saeko
Overseas Cooperation Division
International Training Department