JICE Internship Program for the United Arab Emirates (UAE)
Middle East
Project Management Service
JICE has been conducting the internship program for Masdar Institute (MI) since 2012 to provide practical and educational opportunities to Emirati students in the fields of renewable energy, smart community, and green technology at Japanese leading companies entrusted by Ministry of Economy, Trade and Industry. This program has been highly evaluated and well acknowledged by MI owing to the enormous assistance given by the Japanese companies which has accepted the intern students. In this year, JICE expanded the internship program to have the students from both The Petroleum Institute (PI) and Khalifa University (KU), since the internship program got keen interest by the Emirati students.
15 intern students arrived in Japan on May 17 and May 18, 2015. Each student started the internship program at the host company on May 25, 2015 for one to two months. The host companies of this year are JGC Corporation, Chiyoda Corporation, Mitsubishi Heavy Industries Ltd., Mitsubishi Electric Corporation, Yokogawa Electric, and Hitachi, Ltd. Infrastructure Systems Company.
At the welcome reception for them, all 15 students passionately and zealously expressed their goals and expectation for the internship program. They appreciated to have this opportunity as well as realized the importance of their participation of the program and strengthening the bridge between UAE and Japan in the future.
In order to improve this program, JICE has discussed with the faculty members of each institute and host companies to provide suitable programs. Also, ahead of the internship at each accepting company, JICE offered a preparatory program to learn basic Japanese phrases, Japanese culture and Japanese business manner as well as the safety measures for emergencies. This preparatory program aimed to accustom students to Japanese daily life smoothly and thus to concentrate on their internship training effectively.
JICE continues to make effort to contribute future human development in the UAE and build a great relationship between the two countries.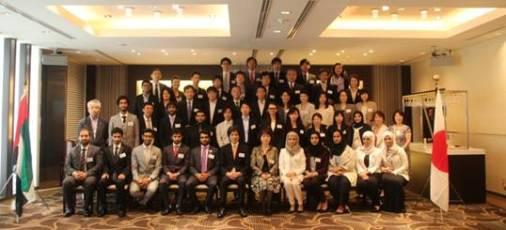 Naoko Kobari (Ms.)
Overseas Cooperation Division
International Training Department