What we do
International Participant Training
International Training Program,
JICE provides full support service built on 40 years' experience and know-how.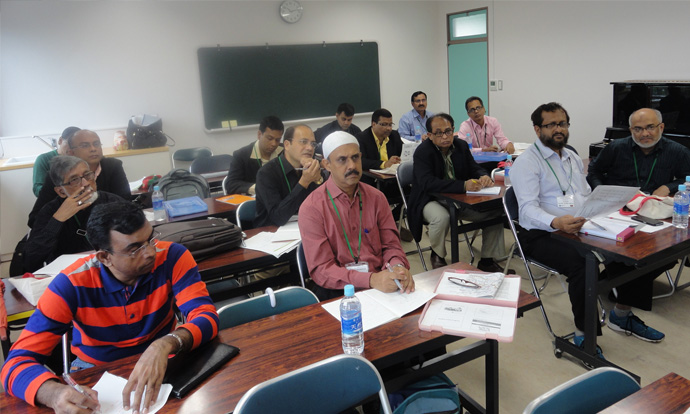 Human Resource Development
JICE provides management support for international training programs in diverse sectors in response to the complex global challenges. JICE assists in designing training courses, managing their progress, arranging interpretation and escorting services for the participants in accordance with the partners and clients' requirements. JICE offers high quality learning opportunities for the participants so that they can play leadership roles in addressing development challenges of their home countries.
Contents of International Training Service
JICE undertakes full range of tasks needed to organize successful training programs such as planning, progress management, interpretation and course facilitation, etc. These services are fully customized according to the demand of each partner and client. For example, if the contents of the training program have already been decided, we can offer only operational support such as flight/hotel reservation, interpretation.
Major Requesting Organization
Overseas Governments
United Arab Emirates
Bahrain
Bangladesh
Brunei
China
India
Indonesia
Mongolia
Taiwan
Qatar
Saudi Arabia
Sri Lanka
Thai
Turkey
Vietnam
International Organizations
Asian Development Bank (ADB)
The Asia-Pacific Rural and Agricultural Credit Association (APRACA)
South Asia Association for Regional Cooperation (SAARC)
United Nations Development Program (UNDP)
United Nations Industrial Development Organization (UNIDO)
World Bank (WB)
World Health Organization (WHO)
World Intellectual Property Organization (WIPO)
Japanese Central Government Ministries and Local Government Offices
Ministry of Agriculture, Forestry and Fisheries (MAFF)
Ministry of Economy, Trade and Industry (METI)
Ministry of Foreign Affairs (MOFA)
Ministry of Health, Labor and Welfare (MHLW)
Ministry of Justice (MOJ)
Ministry of Land, Infrastructure, Transport and Tourism
Financial Service Agency
Kanagawa Prefectural Government (KPG)
Japanese Public Agencies and Universities
Japan Cooperation Center for the Middle East(JCCME)
The Japan Dietetic Association (JDA)
Japan International Cooperation Agency (JICA)
National Center for Global Health and Medicine(NCGM)
Nippon Export and Investment Insurance (NEXI)
Sophia University
Yokohama National University (YNU)
Overseas Universities and Educational Institutions
Contact us
International Training Department,

J

apan

I

nternational

C

ooperation C

e

nter (JICE)