JICE signed Memorandum of Understanding for ENHANCEMENT OF EDUCATIONAL EXCHANGE PROGRAM with Abu Dhabi National Oil Company (ADNOC)
Middle East
Project Management Service
On January 18, 2015, Mr. Faisal Mohamed Al Ali, Scholarship Division Manager, Abu Dhabi National Oil Company (ADNOC), and Ms. Masako Kishimoto, Vice President of Japan International Cooperation Center (JICE), signed the memorandum of understanding (MOU) for ENHANCEMENT OF EDUCATIONAL EXCHANGE PROGRAM.
The signing ceremony was held at ADNOC headquarters, United Arab Emirates (UAE) with the presence of His Excellency Mr. Yoichi Miyazawa, Minister of Economy, Trade and Industry (METI) and Mr. Mohammed Butti Al Qubaisi, Director of Exploration and Production, ADNOC.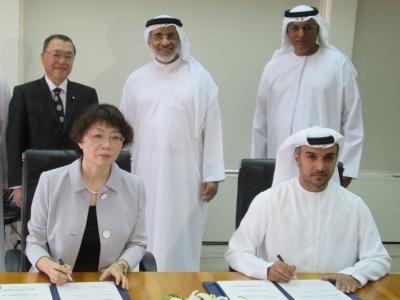 JICE has promoted several activities to encourage UAE national students to study in Japan with the support of the METI. Through this MOU, JICE and ADNOC aim to enhance a mutual collaboration of educational exchange between ADNOC scholars and Japanese universities.
JICE will continue its efforts to increase UAE national students studying in Japan in cooperation with ADNOC, METI and other related organizations.
Mr. Yuji Kawamoto
International Training Department