The first workshop for Emirati Female Job Seekers in the field of Entrepreneurs in the United Arab Emirates (the UAE)
Middle East
Project Management Service
JICE implemented the first workshop for Emirati Female Job Seekers in the field of Entrepreneurs from February 22nd to 26th 2015, which was specially designed for females living in Al Ain City in the Emirate of Abu Dhabi, the UAE.
This workshop was carried out based on the Cooperation Agreement with Abu Dhabi Tawteen Council (ADTC), a governmental entity established to develop and support Emiratization* strategies and plans in both the public and private sectors in the Emirate of Abu Dhabi.
This program consists of 3 levels of workshops to be delivered for 5 days on each level. On completion of the well-received first workshop, the second and the third ones are scheduled to be carried out in April and in June this year respectively.
The opening ceremony was grandly held on the 22nd February, the first day of the workshop with kind attendance of Mr. Kenji Hirata, Minister, Deputy Chief of Mission, Embassy of Japan in the UAE as a distinguished guest, as well as H.E. Ali Rashid Al Ketbi, Chairman of ADTC and other guests from the concerned companies and organizations.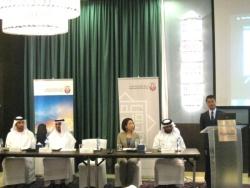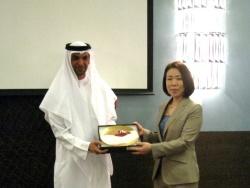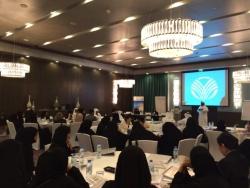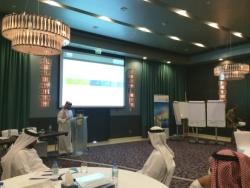 JICE will continue to make further efforts towards the success of the coming workshops.
*Emiratization: Name of the initiative by the government of the UAE to employ its citizens in a meaningful and efficient manner in the public and private sectors.
Miyuki Inoue (Ms.)
Overseas Cooperation Division
International Training Department