President Yamano receives a visit of Dr. Sahida Akter Economic Minister of Bangladesh Embassy in Japan
Ms. Sachiko Yamano, President of JICE received a visit of Dr. Sahida Akter, Economic Minister of Bangladesh Embassy in Japan on 2 February, 2017.

Dr. Sahida expressed her appreciation to JICE for supporting 298 Bangladesh Civil Servants and Central Bank officers to study in Japan through JDS. She introduced that 240 among them had completed their master degree and many of them have been promoted to higher positions at their belonging organizations in Bangladesh.

In addition, Dr. Sahida welcomed that the slot numbers of JDS Bangladesh increased from 25 to 30 people from 2016 and introducing Ph.D. course which is currently under consideration.

She also showed her much interest in involving in JDS project such as participating in arrival Orientation and Farewell programme for JDS Fellows and visiting JDS accepting universities to understand how Bangladesh JDS Fellows study and stay in Japan.

In the last half of meeting, Dr. Sahida and JICE exchanged the meaningful opinion regarding educational system and scholarship programme in Bangladesh.

In conclusion, both sides reaffirmed their commitment to strengthen the relationship between Bangladesh and Japan.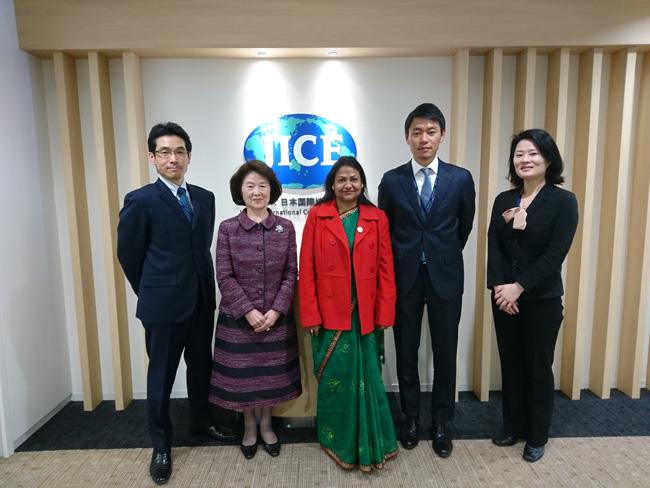 Yasuyo Shimizu
International Students Division,
International Students Affairs Department