126 Alumni and Guests Attended the JDS Alumni Reunion in Viet Nam
Asia
International Student Service
On January 19, 2017, Japan International Cooperation Center (JICE) and Japan International Cooperation Agency Viet Nam Office co-organized a reunion in Hanoi bringing together the alumni of Project for Human Resources Development Scholarship by Japanese Grant Aid (JDS). 126 people attended this event including the alumni who obtained a Master's degree in Japan under the JDS. It also functioned as the launch event for the working group charged with the establishment of the association and planning of continuous activities was formed from among participants.

The JDS Project aims to support the human resource development of the young government officials in the developing countries. This was the biggest alumni reunion ever held in any other countries. Professors from 8 Japanese universities, 12 Graduate schools who had been in Hanoi for selection of JDS candidates also attended as the guests. Mr. Truong, who was elected as the leader of the working group, said that they would take initiative to discuss the direction of the Association and raise funds to organize regular events.

As an organizer of this alumni reunion, we featured various things to remind the alumni of fond memories about Japan throughout the event.
For example, we brought Japanese sake named "Etsuno Hajime" which was brewed in Hue, the central region of Viet Nam, using Vietnamese rice and used it for "Kagami Biraki", a traditional Japanese ceremony to wish for success by breaking open the cask of sake, to celebrate the launch of the Alumni Association. The Japanese beer brand "Sapporo" brewed in Viet Nam was served. Food was delivered from the decades-old Japanese restaurant "Ky Y" in Hanoi. Besides we displayed the photos of Japan we collected from the alumni.

From 2001 until this year, 484 JDS fellows have been sent from Viet Nam to Japan and it is the largest number among the JDS participating countries. Looking forward, we expect that the JDS alumni network will be sustained and further developed through vibrant activities to help support alumni's career and capacity building.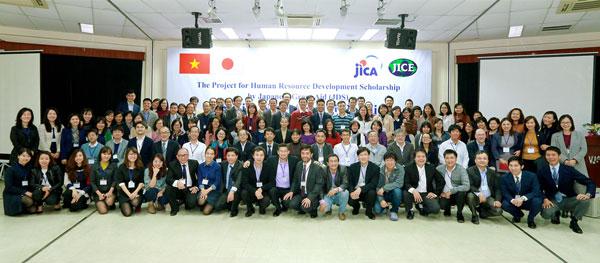 Hideki Kenmotsu
International Students Affairs Department
JICE JDS Project Office in Viet Nam