Young Cambodian Leaders Visit Japan to Participate in the Business Familiarization Program Organized by JICE Chubu Office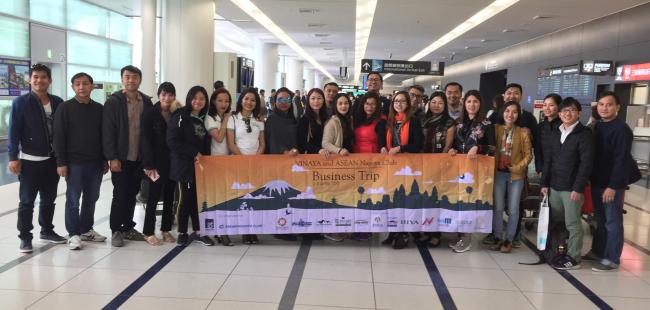 A delegation of 22 young business leaders and entrepreneurs from Cambodia visited Japan from April 2 through April 8, 2017 for the purpose of familiarizing with the Japanese business. This visit program was initiated by VINAYA Law Office, a Phnom Penh based law firm owned by Mr. Pak Chan Lino, ex JDS (Japanese Grant Aid for Human Resource Development Scholarship) Fellow, and entrusted to JICE Chubu Office to undertake its planning and implementation through good offices of ASEAN-NAGOYA CLUB which supports students from ASEAN countries through cultural exchange.
The delegation led by Mr. Lino himself who obtained his Master's Degree from Graduate School of Law of Nagoya University in 2015 visited Nagoya, Gifu, Kyoto and Nara to gain an understanding of Japanese business as well as its cultural and historical aspects through the exchange with local business leaders and entrepreneurs. JICE also participated in the Business Matching session as a representative institution for human resources development in the field of international cooperation. Since most of the delegation members were corporate executives representing various business sectors such as property development and management, hotelier, travel, and education, they were keen to develop a network with the Japanese business people to explore current and future business opportunities. During the program, the young Cambodian leaders were exposed not only to Japan's cutting-edge technologies such as AI robotics and next-generation motor vehicle but also to its cultural and historical aspects. Fortunately, it was a good timing to enjoy cherry blossoms at many famous viewing spots such as the Nagoya Castle, Kiyomizu Temple and Arashiyama Bamboo Forest in Kyoto, and Todaiji Temple in Nara.
As the number of foreign visitors to Japan is increasing these days, JICE will promote business matching for foreign delegation.
Mitsuaki Inukai
Chubu Office