Senior Officials from the Malaysian Ministry of Youth and Sports Visit JICE
Asia
International Youth Exchange
On June 20, Ms. Ramona Binti Mohd Razali, Deputy Secretary General, and Ms. Rafizah Zahri, Senior Private Secretary to Minister of Youth and Sports, visit JICE to exchange opinions with Mr. Nobuaki Hirakawa, Vice President, then Secretary General, on cooperation between JICE and Malaysia.
JICE has been involved in human resources development over a long period by implementing JICA training programs for Malaysia in line with the Malaysia Look East Policy launched by then Prime Minister Mahathir in 1981. JICE has built good relationships with the Ministry of Youth and Sports, national focal point of JENESYS program※ from its very start in 2007.
Mr. Nobuaki Hirakawa and Ms. Binti Mohd Razali exchanged views on further collaboration with the Youth and Sports Ministry in various fields such as youth/sports exchange, vocational training, internship, etc, while confirming to strengthen cooperation with Malaysia aiming to move into the ranks of developed nation by 2020.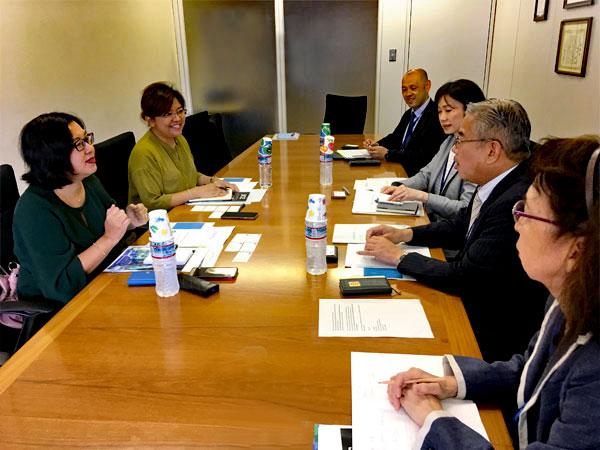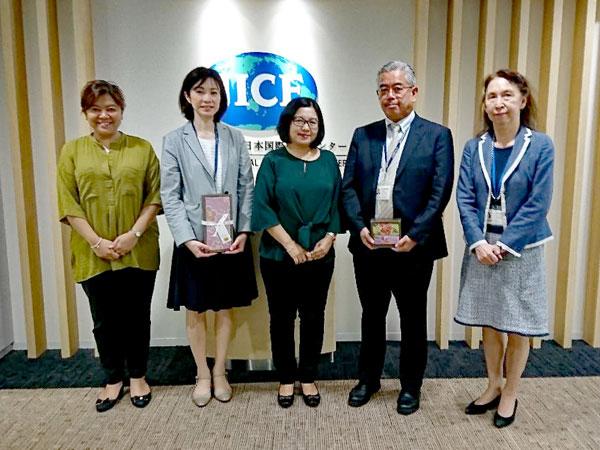 ※JENESYS Program is an exchange program for the Asian and Oceanian regions under the scheme of "Japan's Friendship Ties Programs" launched by the Japanese Ministry of Foreign Affairs. JICE, as an implementing agency, has been engaged in both inbound and outbound programs. For details, please see "International Youth Exchange".
Keiko Omae
International Exchange Department